Cleanroom Microfiber Swab MS766 Medium Handle CleanTip


Descrizione:
Il nostro tampone in microfibra MS766 è una versione più corta di MS761, ha le stesse dimensioni della punta, può essere utilizzato su applicazioni in cui non è necessaria una lunga impugnatura. Può essere utilizzato nell'industria automobilistica, nella produzione di stampi e così via. I tamponi con punta in microfibra di Mediclean MS766 sono dotati di testina interna flessibile e manico medio. È costruito in poliestere microfibra a doppio strato con buona capacità assorbente. Il poliestere in microfibra presenta un'eccellente compatibilità con i solventi aggressivi. La sua struttura di substrato in microfibra rende adatto per intrappolare le micro particelle. Il tampone per camera bianca MS766 è ideale per applicazioni di alta qualità come il campionamento di superfici farmaceutiche e l'industria biotecnologica.

Compatibile con:
- Texwipe Microdenier Swabs TX766
Contattaci per ulteriori Microdenier Cleanroom Swab Texwipe compatibile

Grafico delle dimensioni:

applicazioni:
- Per le applicazioni, utilizzare TX766 senza che sia necessaria una lunghezza eccessiva
- Rimuovere la macchia ostinata con la soluzione detergente
- Pulire la superficie ottica delicata
- Per l'assemblaggio del telefono cellulare
- Per la produzione di macchine automatizzata

Confezione:
500 tamponi / sacchetto
5 sacchetti interni da 100 tamponi
30 borse / custodia

Caratteristiche di contaminazione:
Property

Measurement

Test Method*

Nonvolatile Residue(NVR)

TM10: Procedure for Determining the Nonvolatile Residue (NVR) Extractable from Swabs in a Given Solvent

IPA Extractant

0.02 mg/swab

Ions

TM12: The Determination of Ions in Wipers and Other Materials by Capillary Ion Analysis (CIA)

Chloride

<0.01 μg/swab

Sulfate

<0.01 μg/swab

Nitrate

<0.01 μg/swab

Phosphate

<0.01 μg/swab

Fluoride

<0.01 μg/swab

Potassium

<0.01 μg/swab

Calcium

<0.01 μg/swab

Sodium

<0.01 μg/swab

Magnesium

<0.01 μg/swab
*: Procedure di prova disponibili su richiesta.
Caratteristiche ESD:
Resistività dell'impugnatura: 10 8 - 10 9 Ohm / Sq (opzionale)
Immagine: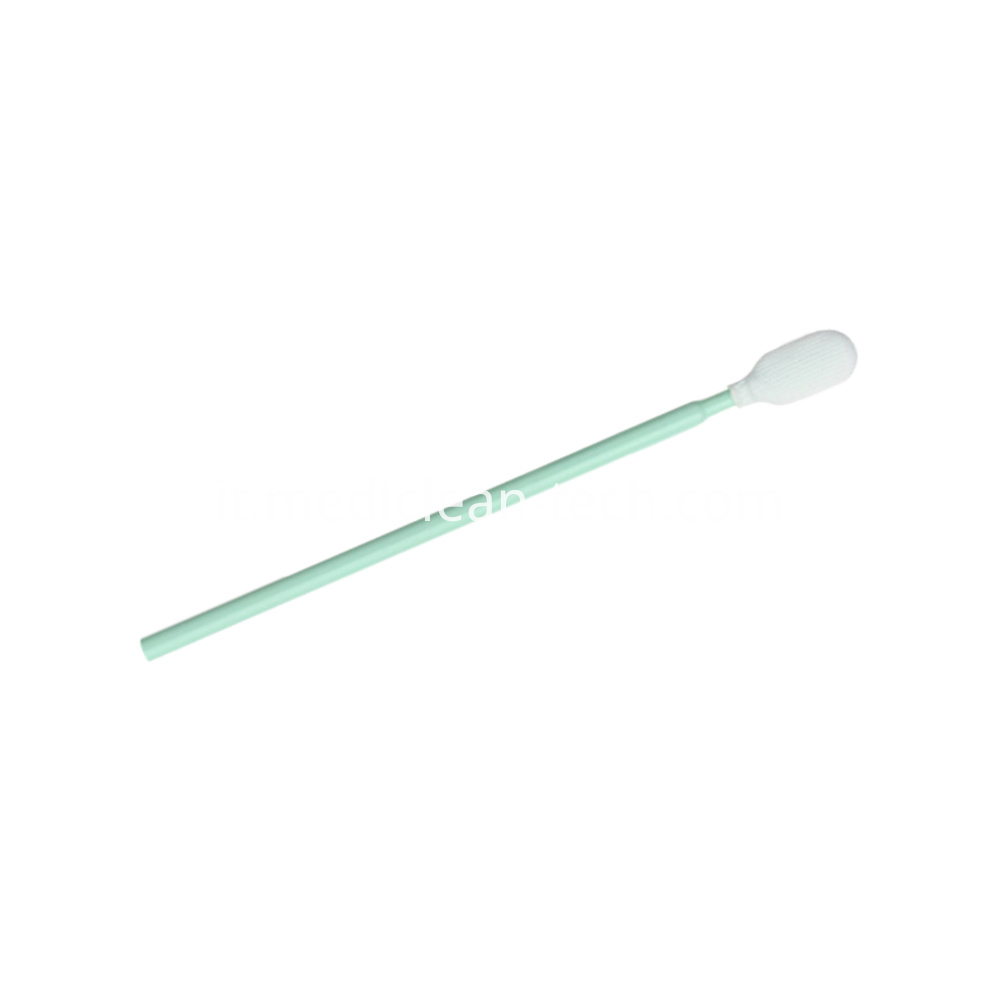 Elenco prodotti : Tamponi per camera bianca > Tamponi in microfibra per camere bianche